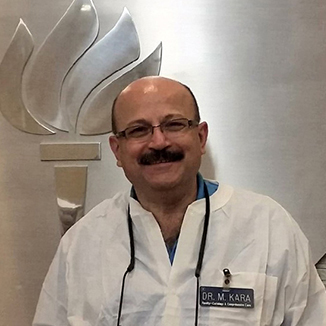 Dr. Kara, with over 35 years of experience, graduated from Damascus University in 1981 and New York University in 1987. He completed his residency at Montefiore Hospital in 1988 as well as two years of training in Implant Dentistry (Surgical and Prosthetic) (Placing and Restoring implant).
Dr. Kara has practiced General Dentistry, treating Adults and Children for over 28 years. He believes in early intervention Orthodontics, which allows him to work with the natural growth and development of the child to avoid compromised treatment in early teens. Most of the time this requires extraction of healthy teeth. His long time experience in orthodontics has helped many young children as well as adults to correct and improve the functionality and esthetic of their dental health. His love and passion for Dentistry inspires his love of teaching. Dr. Kara enjoys sharing his knowledge and experience with his students at New York University college of Dentistry for the past 25 years.
When not in the office, Dr. Kara enjoys golf, walking and wood work.